Executive Committee
Terms run from January 1, 2018 through December 31, 2018.
---
President: Gary Butterfield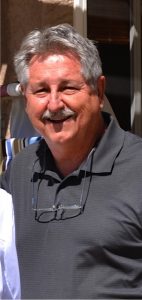 Ever since I was captured by the US Army during the draft of 1967 I have realized that violence and war are choices. Being a member of the San Diego Veterans for Peace allows me to join with others to multiply our effectiveness in spreading awareness to the evils of all wars.
---
Vice President: Sean McCrea
Bio to follow.
---
Treasurer: Jack Doxey
Jack is an Army combat veteran from the Korean War. He served in Korea in 1953 with the 7th Regiment, 3rd. Infantry Division. He retired from the Hewlett Packard Company in 1991. After retirement, Jack owned and operated a management consultant business.
---
Secretary: Ed Fox
Bio to follow.
---
Member: Kate Beckwith
Bio to follow.
---
Member: Michael Hanes
Bio to follow.
---
Member: Dave Patterson
Bio to follow.